Congratulations to Val, NV9L and Jerry, WB9Z for being the cover photo for the September 2020 issue of CQ!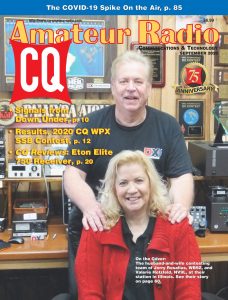 CONGRATULATIONS to our officers for 2021. Agreeing to hold their posts for an additional year are President: Jim Mornar N9TK, Vice-President: Bob, Jacobson K9CJ, Secretary Lee Swanson, WA9LEY, and Treasurer: John Holmes W9ILY.
Unfortunately our annual Winterfest dinner in January was not held in 2021 due to the COVID-19 pandemic. Hopefully we'll recover in 2021 and have a great Winterfest again in 2022.
Due to the Covid-19 pandemic and cancellation of many events, our March 20, 2020 meeting and those following were held via ZOOM with on-the-air nets on the NC9T repeater on other Friday nights. This is continuing in 2021.
Congratulations to our new member George Yundt on his new call W9GJY.
Welcome to returning member Wayne, AC9EF.
Welcome to our newest member Darren, W9AS.