Let's all give the winners in 2020 our thanks for putting in a great effort for these events! Unfortunately, there is no plaque or banner for the winners, only a colorful certificate and, of course, bragging rights. So you can shout it to the rooftops as much as you want! Congratulations!
2021 will be a year-long competition! Yes, something fun to do while we're stuck at home and later when things return to normal. The year-long competition will result in the METRO KING OF THE MOUNTAIN and the winner will be announced after the end of the year and there will be a prize awarded to the winner! Following the eligible contest, the winner of the KING OF THE HILL will be announced. You can keep track of the various contestants on our web page so you can see your standings along with the other Metro members. The total of the number of QSOs for each qualifying contest will be used to determine who will be the ultimate METRO KING OF THE MOUNTAIN.
For scoring in 2021, a person can earn the "King of the Hill" once during the year for the top number of QSOs in a "qualified contest". This is a change from the 2020 rules since we now will have an entire year to score. The number of QSOs that are made in each of the qualifying contests will accumulate and the final total of QSOs will be used to determine the "METRO KING OF THE MOUNTAIN" that will be awarded at the Winterfest dinner, probably in January, 2022. That way you'll keep accumulating QSOs throughout the year toward the final goal. To keep a level playing field, only single operator entries will be eligible.
The "qualifying contests" are listed below.
Here are the 2021 results: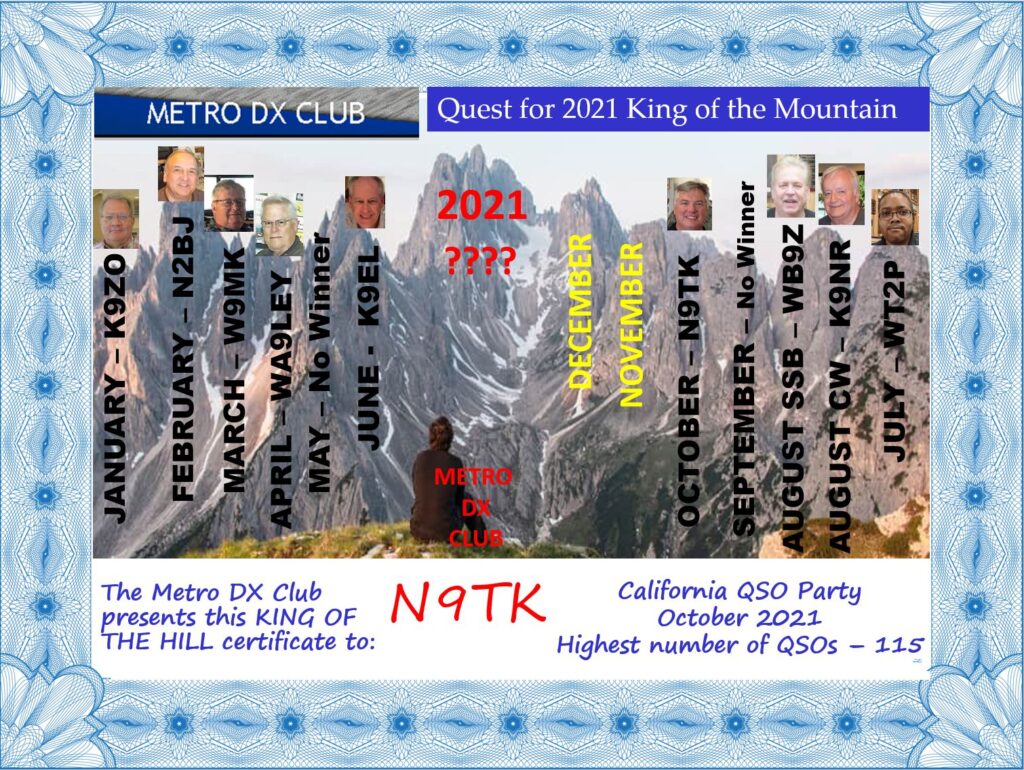 Scroll right to see more results and totals
January
February
March
April
May
June
July
August
1st period
August 2nd period
September
October

November

December
TOTALS
Callsign
NAQP-SSB
ARRL CW
ARRL SSB
FL QSO Party
Hamvention QSO Party
DX Weekend
June 19-20
IARU
NAQP- CW
NAQP- SSB
WA State Salmon Run
CA QSO Party
ARRL Sweepstakes SSB
RAC Winter
YEARLY TOTAL
K9ZO
739
WINNER!
1,313
1,020
1,328
4,400
N2BJ
450
280


WINNER!

506
637
103
54
645
160
124
51
821
3,831
W9MK
516


WINNER!

516
WB9Z
831
965


WINNER!

1,796
K9NR
178
879


WINNER!

1,057
WA9LEY
151
137
52
76

WINNER!

15
272
135
16
2
757
K9PY
110
227
 92


WINNER!

429
K9CS
60
335
395
WT2P
43
215
17
767

WINNER!

306
130
183
1,661
KM9M
22
12
19
9
62
NE9A
10
165
103
278
K9CJ
272
272
W9PDS
257
257
W9OA
159
86
16
261
K9PMV
161
119
21
39
60
73
473
K9EL
21
19

WINNER!

33
49
122
K9GA
71
81
152
NV9X
66
90
156
K9ACM
26
26
N9TK
14
101
88
115

WINNER!

318
W9EWZ
144
144
Here are the 2020 winners:
Round 1: WINNER: Jerry K9PY
Round 2: WINNER: Barry N2BJ
Round 3: WINNER: Ralph K9ZO
Round 4: WINNER: Jim N9TK
Round 5: WINNER: Ralph K9ZO
Round 6: WINNER: Jerry WB9Z
Round 7: WINNER: Barry N2BJ
Round 8: WINNER: Barry N2BJ
Round 9: WINNER: Ralph K9ZO
Round 10: WINNER: Carl K9CS
METRO 2020 KING OF THE MOUNTAIN CHALLENGE - WINNER K9ZO