Let's all give the winners in 2020 and 2021 our thanks for putting in a great effort for these events! So you can shout it to the rooftops as much as you want! Congratulations!
Here's what the 2022 competition will be - something different! We will have eight contests for King of the Mountain in 2022 and there will be three categories - High Power, Low Power and QRP. You may enter whichever category you wish and the scores for that category will be accumulated throughout the your to determine the winners in each category.
HIGH PWR
CALL
ARRL CW
ARRL SSB
NAQP CW (AUG) ALL LOW PWR
NAQP SSB (AUG)
ALL LOW PWR
ARRL SS CW
ARRL SS SSB
CQWW SSB
CQWW CW
TOTAL
N2BJ
526,500
854,100
x
30,690
1,411,290
WT2P
x
68,820
x
x
68,820
K9PY
x
28,944
17,000
6,104
52,048
W9PDS
137,425
x
x
x
137,425
K9ZO
95,335
27,018
92,554
5,512
220,419
K9CJ
30,406
8,820
x
x
39,226
W9EWZ
15,444
x
50,184
x
65,628
KC9EOQ
1,386
7,866
11,100
x
20,352
K9GA
x
x
8,580
5,984
14,564
W9OA
x
x
6,496
x
6,496
NV9X
x
x
10,640
4,982
15,622
NE9A
x
x
3,237
2,016
5,253
N9TK
x
x
56,250
x
56,250
LOW PWR
WB9Z
607,020
x
x
x
607,020
WA9LEY
105,750
20,907
50,625
20,412
197,694
K9PMV
8,505
11,139
x
2,747
22,391
KM9M
1,782
x
x
x
1,782
K9LOT
x
x
x
2,166
2.166
K9EL
x
x
x
3,700
3,700
K9DRS
x
x
x
357
357
QRP
Here's what happened in 2021
2021 was a year-long competition! Yes, something fun to do while we were stuck at home. The year-long competition resulted in the METRO KING OF THE MOUNTAIN and the winner has been announced - K9ZO - who received a nice plaque and certificate. Great going, Ralph! Following each eligible contest, the winner of the KING OF THE HILL was announced. The winners are shown below. The total of the number of QSOs for each qualifying contest was used to determine the ultimate METRO KING OF THE MOUNTAIN.
For scoring in 2021, a person could earn the "King of the Hill" once during the year for the top number of QSOs in a "qualified contest". This is a change from the 2020 rules since we had an entire year to score. The number of QSOs that were made in each of the qualifying contests accumulated and the final total of QSOs was used to determine the "METRO KING OF THE MOUNTAIN". To keep a level playing field, only single operator entries were eligible.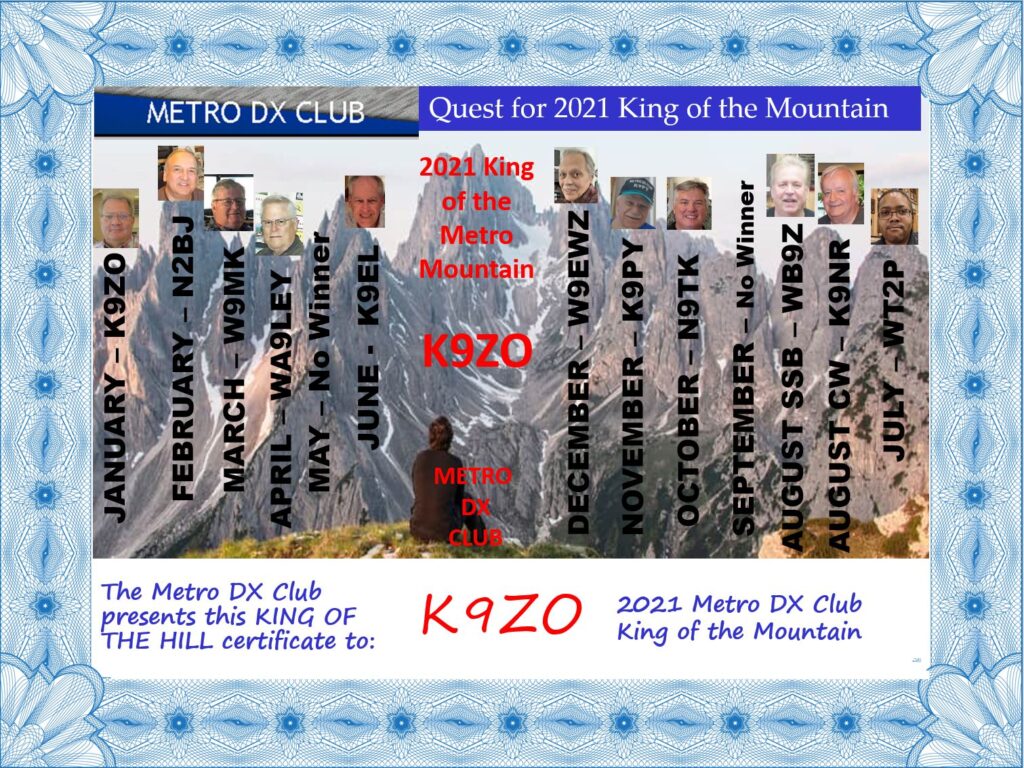 Here are the 2021 winners:
Round 1: WINNER: Ralph K9ZO
Round 2: WINNER: Barry N2BJ
Round 3: WINNER: Mike W9MK
Round 4: WINNER: Lee WA9LEY
Round 5: Skipped
Round 6: WINNER: John K9EL
Round 7: WINNER: CJ WT2P
Round 8 First Section: WINNER: Don K9NR
Round 8 Second Section: WINNER: Jerry WB9Z
Round 9: Skipped
Round 10: WINNER: Jim N9TK
Round 11: WINNER: Jerry K9PY
Round 12: WINNER: Bob W9EWZ
METRO 2021 KING OF THE MOUNTAIN CHALLENGE - WINNER K9ZO
Here are the 2020 winners:
Round 1: WINNER: Jerry K9PY
Round 2: WINNER: Barry N2BJ
Round 3: WINNER: Ralph K9ZO
Round 4: WINNER: Jim N9TK
Round 5: WINNER: Ralph K9ZO
Round 6: WINNER: Jerry WB9Z
Round 7: WINNER: Barry N2BJ
Round 8: WINNER: Barry N2BJ
Round 9: WINNER: Ralph K9ZO
METRO 2020 KING OF THE MOUNTAIN CHALLENGE - WINNER K9ZO