The Worked US Territories Award (WUST) is a very colorful certificate sponsored by the METRO DX Club.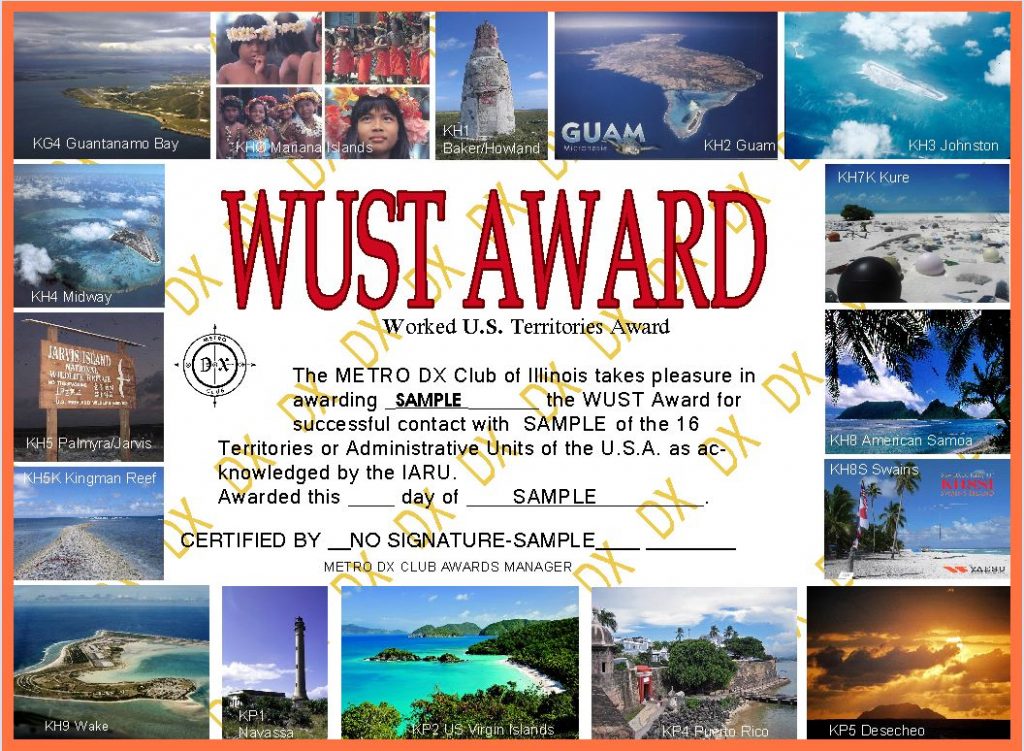 Contact a minimum of thirteen (13) of the current thirteen (15) IARU-recognized U.S. territories (those entities recognized as of 26 August, 2016). The fifteen WUST territories are: KG4 (Guantanamo Bay), KHØ (Mariana Islands), KH1 (Baker & Howland Islands), KH2 (Guam), KH3 (Johnston Island), KH4 (Midway Island), KH5 (Palmyra & Jarvis Islands), KH7K (Kure Island), KH8 (American Samoa), KH8S (Swains Island), KH9 (Wake Island), KP1 (Navassa Island), KP2 (US Virgin Islands), KP4 (Puerto Rico) and KP5 (Desecheo Island). Mixed bands and modes OK. No date restriction. GCR list certified by two licensed amateurs showing the callsign of the station worked, date, time, frequency/band and mode.
A "SPECIAL HISTORIC AWARD" will be issued to applicants who have contacted all SIXTEEN of the original DXCC entities (the SIXTEEN US Territories that include KH5K Kingman Reef) that were in effect as of 28MARCH2016.
If you are at the TOP OF THE ARRL DXCC HONOR ROLL as printed in the most recent DXCC Yearbook, you automatically qualify for the award without having to send copies of QSL cards. You must write "TOP OF THE ARRL DXCC HONOR ROLL IN the DXCC Yearbook dated 20xx" on the Award Application in the "QSO Data" section. This applies ONLY to those who are at the VERY TOP (Number 1) on the ARRL DXCC Honor Roll.
For an LoTW confirmation, it must be verified by two amateurs as does a QSL card copy or a copy of the screenshot of the LoTW QSL confirmation detail..
Photocopies of QSL cards are OK. SWL OK. Send GCR list or QSL photocopies and fee of US$8 to:
METRO DX Club, 3810 N. Chamlin Drive, Morris, IL 60450. A PayPal payment to w9ty@arrl.net is also accepted.
Following receipt of the original award for a minimum of thirteen territories, endorsements for contact #14 or contact #15 are available for US$3.00. A PayPal payment to w9ty@arrl.net is also accepted.
See the Award Application for further information.
Award Application/Sample log extract: Award Application
Internet: https://www.metrodxclub.com
E-mail: awards@metrodxclub.com
To view the original WUST News Release, CLICK HERE.
Congratulations to the following DXers who have received the WUST Award with their confirmations indicated:
METRO DX Club Members: AF9H (15), AI9L (ALL 16), K9BWQ (ALL 16), K9CJ (ALL 16), K9CS (ALL 16), K9GA (ALL 16), K9MDO (15), K9PY (15), N9AKR (14), N9ALC (15), N9TK (15), W9LNQ (ALL 16), W9UM (ALL 16), W9YYG (ALL 16), WA9LEY (ALL 16), WB9Z (ALL 16), W9IXX (ALL 16) N9LAH (14), ACØX(ALL 16) and K9ZO (ALL 16).
DXers from Around the World:
Awarded in 2022: N6MXU (15), 4L1MA (14)
Awarded in 2021: OH1EB (16), W7UT (16), K4WY (16), K1KOB (16), KC6AWX (16), AH6HY (16), WBØCHS (16).
Awarded in 2020: WA4WKL (Endorsements for #15 and #16).
Awarded in 2019: WA5UA (14), LA5YJ (16), OK2BVX (16), W6KGP (15).
Awarded in 2018: KO6LU (13), WB5OSD (14), GM3ITN (16), DK9MCT (13), W5DAW (13), JA7CVL (16), VE3VTG (13).
Awarded in 2017: DL6MRS (15), KU8X (16), AK7O (16), I4YCE (16), I5HOR (16), W9JOE (16), K9ARZ (16), I2AOX (16), I1FY (15), IW1HII (12), N9IGP (14), JA7QVI (16) and AC2G (14).
Awarded in 2016: KB9LIE (16), K9OT (16), IK4DRY (16), G0DBE (16), G4NXG/M (16), K1KOB (16), K2DFC (16), JN3SAC (16), KB9VAO (14), KF4NEF (endorsement #16), WØNB (16), VK2HV (16), SV2CXI (16), AH6FX (14), OE6CLD (16), DL1ASA (16), SP8IQR (16) and KF4MH (16).
Awarded in 2015: SM5FWW (16), WØGJ (16), N6FX (16), K8EAB (endorsement #15),VE3CFK (16) DJ3XG (endorsements #15 & #16), W1RM (16), WØROB (endorsement #16), AA1VX (14), K6VWE (endorsement #16), W5NUT (16), W6WF (16), N2BJ (16) and W4DSM (14).
Awarded in 2014: W6ZQ (16), KG8CZ (14), K8EAB (14), K1BV (16), WA9LEY (16), NR9J (14).
Awarded in 2013: WF2S (16), DF2RG (16), DL1DTL (15), N4FN (16), K7SM (endorsements for NH8S and KH4), N9JV (16), W4JS (16), SM3KIF (15), W5BPT (16).
Awarded in 2012: K6YK (16), DJ6VM (16), W6HTC (16), K6GAK (16), N5FG (16), K8IU (16), N5WI (16), KD4OS (16), DK7YY (14), W1WTG (14), K6VWE (15), JF2SKV (15), W4ZYT (16), W4VIC (16), W8UV (16), WØROB (15), DL2SUB (14), K9UQN (16), K6MM (14), ON5FP (16), AAØZP (15), KN6KI (16), VE3XN (16), WB5STU (14), W4REX (16), W3YX (16), K1KO (16), I6ONE (16),YT3H (16), OM3MB (16), IØWDX (16), IK5ACO (16), N4AA (16), W6DPD (16), K7XE (16), I5KG (16), IK2ABJ (16), IT9HLR (16), DJ3XG (14), W6OUL (16), W4UM (16), WK3N (16), DJ9ZB (16), KM6HB (16) KR4OJ (16), HAØHW (16), IK4CIE (16), EA4MY (16), WØWOI, W4PV (16), LA9SN (16), VK2HV (15), W1YRC (16), HA8UT (16), IKØPRP (16) and KF4NEF (15), IK2BLA (16), LA9DAA (16), DL5CW (14), KA3UNQ (15), HB9BHY (16), W6OAT (16), VK2FR (16), I6CXD (15), KB4GYT (16).
Awarded 2011: HB9DDZ (ALL 16), K2EP (ALL 16), K2XF (ALL 16), K9NU (ALL 16), KB9AIT (ALL 16), KE9U (ALL 16), N4XO (ALL 16), W7PAQ (ALL 16), WA7QCC (14), WA7QQI (15), WM4R (15), K2HJB (14).
Here are a few of the comments received by WUST Award recipients:
Received the WUST Award today! Thank you!! It looks real nice. 73 de ve3vtg
Your award came in this morning and I am delighted to have it and the nice comments about QSOing the 16 !!! It will go along with my DXCC new sticker for 385 countries on my Mixed Honor Roll #1 and top GM…Delighted!!!! 73 Les GM3ITN. Here is a photo of Les with his WUST Award.
I received my WUST Award today ! A very nice addition to my wallpaper. Thank you and 73 , Bobby WB5OSD . Here is a photo of Bobby with his WUST Award
Today February 10, 2017 I have received quickly my very beautiful WUST Award nr.122. I am very proud to have achieved it by connecting all 16 territories. Thank you so much again. Best 73, Adriano I4YCE.
I received the certificate today…Very nice. Thanks Terry KU8X
Today received the WUST Award. It's nice. Many thanks best 73 de Ray DL6MRS….
Rick SP8IQR received a diploma WUST. Very cool.
Thanks, looks good, vy 73 de Tom, DL1ASA.
Just want to say thank you for the WUST Award certificate which I received in the mail recently. It is an honor to display the WUST Award certificate on my wall, and a pleasure to receive it from the Metro DX Club. Danny AH6FX
The award arrived all ok this morning and I thank you. It is now laminated and sitting proudly near the other awards I have . Thank you very much for the award. Paul VK2HV. Here is a photo of Paul with his WUST Award
Thank you… It is a great looking award. Fred K2DFC
Received the award in the mail today (Jan 11, '16). Very nice, mine will go up on the wall – K9OT
#16! Horray! Robert, WØROB
Received the cert yesterday – thanks a meg, John. Pete, W1RM
The sticker for #15 Navassa is now on my certificate … I'm hoping to work Johnston Island in the not too distant future … Thanks again for the quick turn around on my endorsement application …
Hello and thanks a lot for the very nice award I got yesterday. On the wall already…..for all to admire…looks like I'm the second station in Sweden who received the award. All the very best and hope for good conds 2015. 73´s Leif SM5FWW
Tnx a lot for the beautiful award (first in SM?) Need only Kure Island for full. Keep smiling work cw! Vy 73 de Ewe SM3KIF
Hey, great speedy service with my WUST Certificate, which arrived today!! You must have worked overtime getting it printed and mailed off to me. I have it in a frame. Showed off the certificate to about a dozen radio club members at breakfast today. Both N1RA and K8ZM, who had certified my QSLs, were there to see what their assistance yielded. All were impressed. VY 73, John (Jack) Sproat – W4JS
I received the WUST award today and it's a beauty. It'll be right next to my Honor Roll certificate, WAZ, WAC, 5band DXCC, 5Band WAS and my A-1 Op award as well as some first place awards. I'll also take it to the local ARC for a program. Nice, really nice. It will also have a place of honor with my 40WPM code proficiency award. TU Vy 73, Nick W9UM
Thank you very much for these two very nice pieces (ed: WUST and Gold Certificate). Now I hope that Navassa will be activated very soon. It would be the last entity for my #1 Honor Roll. 73, Klaus DL1DTL
I am really very happy! Thanks for the beautiful realization and compliments for your good job. 73 de I6CXD Piero
Within 5 minutes I had it fully laminated then home to the radio room wall. My XYL and her sister both thought it was really nice and we all took time to read your letter and territories info and admire the WUST award. Thank you to all at the METRO DX CLUB. I have just rearranged my shack. Very nice HI! Vy 73 to you and all at the club de John VK2FR/VK2ANT
I have not applied for an award in a long time but the WUST award was too nice to pass up! Thanks for offering it! Paul KB4GYT
Many thanks for the very beautiful WUST Award. Vy 73 Walter HB9BHY
I can't explain why it appealed to me but it surely did and I had to have it. It truly is a beautiful certificate and I love it. I'm going to take it to my next local club meeting on the 24th and show it off, especially to our younger members and try to stimulate more activity from them… Bob, W1YRC
The WUST award is a class act on great paper!…73, Bill WØWOI
The WUST is a very nice award and I have informed other HB9 Hams for work that. Hope you will rcv more applications. Nick HB9DDZ
Thanks John… It took me over 50 years to finally reach that # 1 level, so I may as well make the most of it… hi hi hi. 73, Carl Smith, N4AA
That's a nice "tip of the hat" for the DXer on the HONOR ROLL. Ted, K1BV
Today I received the WUST Award. It is beautiful! Many thanks. Vy 73 de Bodo – DJ6VM
Received my W.U.S.T. Award today. It is very well done and will receive a prominent place on my shack wall. Cliff, N5WI
I received on this day ur WUST Award, tnx tnx, fb. Vy 73, Werner, DL2SUB
Received the WUST Award today, Super, thank you and the Metro DX Club for making it possible. Very 73, Frank Taylor, AA0ZP
I wanted to tell you that the WUST award arrived in 100 % condition just minutes ago. It's a beautiful award and I congratulate your Metro DX Club on its inception and the quality of the photos used. The Wikipedia fact sheets were a very interesting addition and I shall have to get myself updated…by studying them. hi. TU again and I will take a look on your site to see if any other Canadians have qualified and received your attractive WUST certificate…You have a happy ham with the arrival of your WUST gem…hi . 73 Garry VE3XN
Thank you very much for the beautiful Award. VY 73 es DX, Vilo, OM3MB
Hello John, on 24 the award is arrived ! Thank you very much is beautiful, also my friend I6CXD is interested. 73 dx de Sergio I6ONE
Hello John, Today I received the award, very nice, thank you. 73, Salvo it9hlr
Today I received the WUST award, very nice award and very fast delivery! Thanks again. Lot of DX 73 Vittorio ik4cie
Thanks for supporting NCDXF! 73, Glenn Johnson WØGJ.